Our Custom RFID Cards Printing Services
SmartOne is a leading producer and manufacturer of Plastic RFID Cards. We are the best plastic rfid card maker, supply best solution for custom rfid cards. Its range covers Standard RFID PVC Card, RFID Chip Card, Photo RFID Cards, Metal RFID Cards, NFC Cards, etc. SmartOne has our own manufacturing plant, all Custom RFID Cards are manufactured according to strict ISO standards and provide short lead-times services for all your business needs.
We're committed to create more modern and unique rfid cards with professional and experienced design team and we have the ability of special printing crafts to help customers customize rfid pvc cards that meet your various requirements, such as Brushed RFID Cards, Hot Stamping RFID Cards, Spot UV RFID Cards, Custom Shape RFID Card, etc.
RFID Card Sample Video

What is a RFID Card?
RFID Card, also called Contactless IC Card , is made by encapsulating IC card and antenna in PVC card, combining frequency identification and IC technology to solve passive and non-contact problems. In addition, not only the CPU, logic unit, and storage unit are read and written through read-write technology of non-contact, but RFID transceiver circuits are also added.
Both Contact IC Card and Contactless IC Card have a small microchip inside them that's capable of emitting radio waves. What is different is that Contact IC Card chip is expose and visible, it needs to contact the card reader and other card reading equipment to read and write data. Contactless IC Card chip is built into the plastic and cannot be seen from the outside. It's expected that the data can also be read by sensing the card with the card reader device remotely through the chip's radio waves.

Available RFID Chips
Mifare S50; Mifare S70; FM08; Ultralight; Ultralight C; Desfire EV1; I-CODE 2; Hitag 1; Hitag 2; Inside 2K; Inside 16K; Temic e5551; Atmel T5557; 88RF256-12; EM4100; EM4102; EM4069; EM4069; EM 4150; ST SR176; SRIX4K; Tag-it HF-I; Tag-it TH-CB1A…

Custom RFID Cards Size

Standard Size: 85.5×54mm or on demand.
Bleeding Size: 86.5×56mm
Thickness: 0.87mm

RFID Cards Characteristics
High reliability and durability

high security and good encryption performance.

Multi-purpose card, can be used in different systems.

Flexibility in shape

Easy to operate

Custom RFID Cards Material
Most commonly, Contactless IC Cards are used in PVC materials. However, there are a range of unique material available to really make your plastic cards standout.
PVC - Made of PVC materials, the size is the same as the bank card. The standard size is 85.5×54 mm and the thickness is slightly thinner than the bank card.

ABS - Made from recycled plastic and more durable than PVC, ABS is an excellent choice for high-heat applications or to satisfy eco mandates.

PET - PET is used to make pretty cards for a outstanding taste.

PETG - A more environmentally friendly card material, which is derived from polyester and is 100% recyclable. PETG is biodegradable and doesn't emit harmful gases.

Custom RFID Cards Finish
When choosing card finish, there are multiple finish options and looks for plastic rfid cards. Something to keep in mind is that some printing options only work with certain finishes. If you're not sure which finish is right for your custom card, contact us to discuss your options.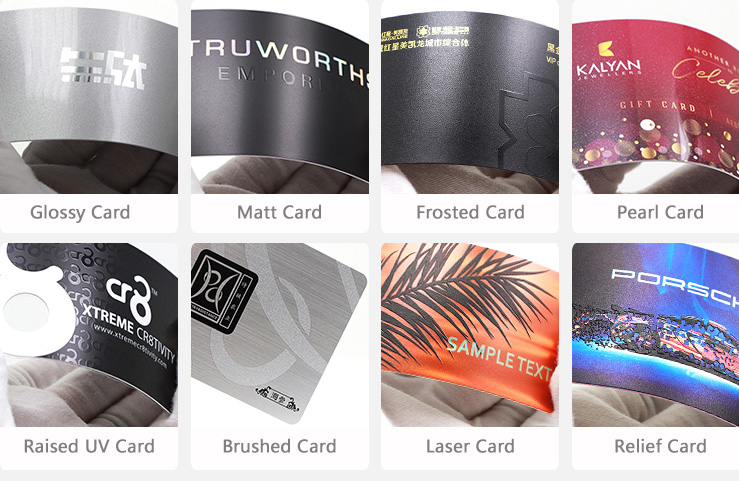 Glossy - The layer of gloss UV coating helps to protect the cards from scratches and also adds a brilliant shine to each card as well as boosting the color and contrast of your artwork designs.

Matte - For durability and texture, a matte finish is tough to beat. The granular feel of a matte finish makes scratches less noticeable, and can add to the overall warmth and strength of your design.

Frosted finished - Frosted cards do not have the sheen of a gloss finish, and offer a smooth and professional appearance that is translucent on clear cards. Available on both clear and solid card stock, frosted finishes have the look and feel of a smooth matte texture.
Custom RFID Cards Printing Options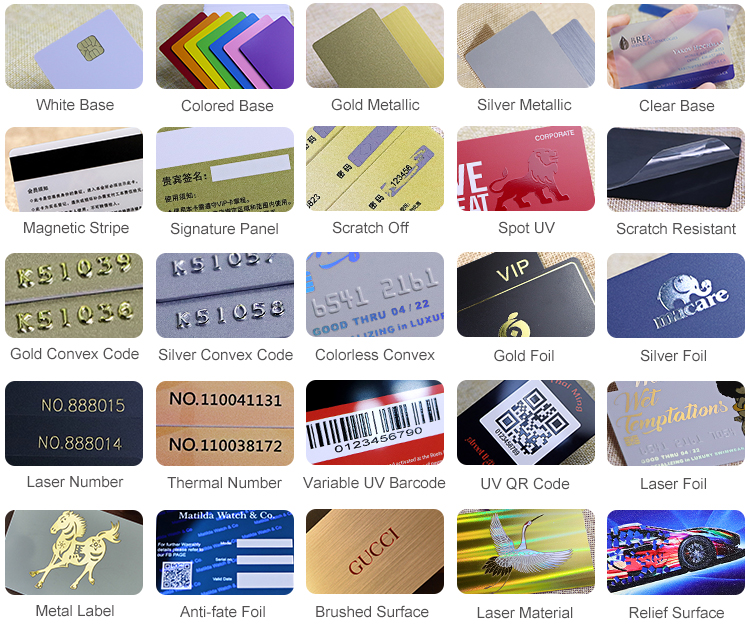 RFID Card Applications
widely used in RFID fields such as city card, bus, subway, light rail, attendance and access control system, enterprise card system, intelligent transportation, membership management, commercial retail, insurance and medical treatment, health, school, public security and other fields.