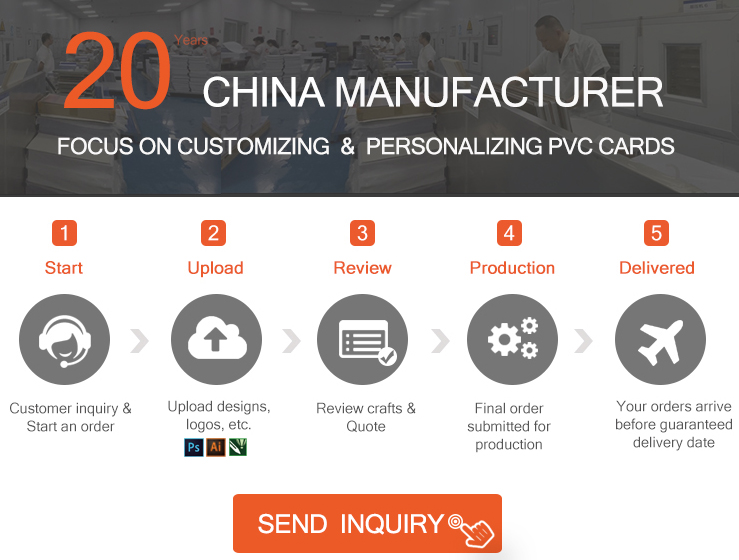 We're factory with 20 years of experience. Our plastic card is specially made to ensure that you receive the top grade rfid membership cards at lowest price. We offers the highest quality RFID cards for your corporation, events, trade shows, conventions, meetings, or reunions.
We have a wide selection of sizes and shapes. If you don't see what you need, custom size and shape dies can be an option, too.
Size
85.5*54mm ( CR80 standard size, the same as credit card ).


Irregular-shaped cards are available.

Thickness
0.38-1mm/Customized.
Available Chips
S50/S70/FM08/Ntag213/TK4100/EM4305/T5577, etc.


Please consult us for more chips.

Material
any color of PVC, Clear Plastic, Metal, Laser Material, etc.
Finishes
Glossy, Matte, Frosted, UV-Coated, Brushed, Relief, etc.
Printing Options
CMYK Printing,Silk Screen Printing,Digital Printing,etc
Card Crafts
Magnetic Stripe, Scratch Off, Signature Panel, Hot Stamping, Barcode, QR Code,
Data Encoding, Serial Numbers, Spot UV, Embossing, Security, Punching Hole,
Holograms, Gilding, Portrait, Anti-Fack Logo, Laser logo, labeling, etc.


Please consult us for more artworks.
Custom RFID Card Sample Video

What is a RFID Card?
RFID Card, also called Contactless IC Card , is made by encapsulating IC card and antenna in PVC card, combining frequency identification and IC technology to solve passive and non-contact problems. In addition, not only the CPU, logic unit, and storage unit are read and written through read-write technology of non-contact, but RFID transceiver circuits are also added.
Both Contact IC Card and Contactless IC Card have a small microchip inside them that's capable of emitting radio waves. What is different is that Contact IC Card chip is expose and visible, it needs to contact the card reader and other card reading equipment to read and write data. Contactless IC Card chip is built into the plastic and cannot be seen from the outside. It's expected that the data can also be read by sensing the card with the card reader device remotely through the chip's radio waves.

Available Chip Types For Custom RFID Cards
Mifare S50; Mifare S70; FM08; Ultralight; Ultralight C; Desfire EV1; I-CODE 2; Hitag 1; Hitag 2; Inside 2K; Inside 16K; Temic e5551; Atmel T5557; 88RF256-12; EM4100; EM4102; EM4069; EM4069; EM 4150; ST SR176; SRIX4K; Tag-it HF-I; Tag-it TH-CB1A…

Custom RFID Cards Size

Standard Size: 85.5*54mm or on demand.
Bleeding Size: 88.5*57mm
Thickness: 0.84mm

Our Custom RFID Cards Characteristics
Most businesses choose a smart chip card to work with the membership card system for member card storage, consumption, points counting, discounts and other marketing. It's also widely used in RFID fields such as city card, bus, subway, light rail, attendance and access control system, enterprise card system, intelligent transportation, membership management, commercial retail, insurance and medical treatment, health, school, public security and other fields. We offer custom rfid card printing services:
Our products are customized, including various colors, materials, sizes, thickness, shapes. OEM & ODM orders are available.

Brand new pvc card stock, ISO standard CR80 30mil solid PVC, professional looking, texture and feel. Custom sizes & shapes are available.

Can be printed with most card printers. Full color printing on one or both sides

All cards can be personalized with your logo design, brand name and variable data like barcode, magnetic stripe, signature panel, straight numbering and more. Also available is RFID / Smart card technology.

Use ready to print artwork, or we can help you design. Send your design and let's start an order.
Custom RFID Cards Material
The blank white pvc materials are often used for custom rfid card printing. However, there are many other unique materials that can really make your custom rfid cards stand out, including colorful pvc, clear pvc, laser material, brushed material, metal, wood, etc.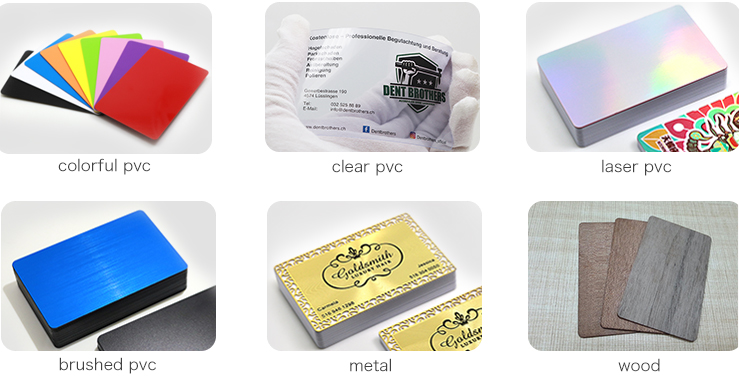 Custom RFID Card Finishes
When choosing card finish, there are multiple finish options and looks for custom printed rfid cards.



Glossy - gives a shiny and glass-like appearance that enhances the color and vibrancy.

Matte - has a soft and non-shiny look, producing an elegant and sophisticate feeling.

Frosted - has a rough and granular feeling that makes cards look very noble.

Pearl - gives a smooth feel and a taste, sparkling effect.

Custom RFID Card Printing Options
As a custom pvc cards manufacturer, we are committed to being the best rfid card maker, supply best solution for custom rfid card printing service. Click here to learn more about rfid membership card printing options.