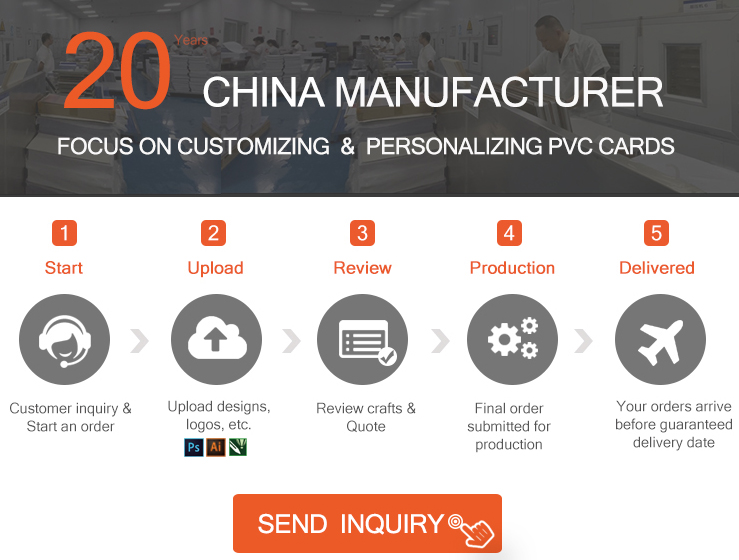 We're factory with 20 years of experience. Our plastic key tag is specially made to ensure that you receive the top grade custom cards at lowest price. Perfect for Grocery, Markets, fitness centers, Gyms, Yoga Studios, Salons, Spas, Wellness Centers, sports clubs and many more businesses.
We have a wide selection of sizes and shapes. If you don't see what you need, custom size and shape dies can be an option, too.
Size
85.5*54mm ( CR80 standard size, the same as credit card ).


Irregular-shaped cards are available.

Thickness
0.38-1mm/Customized.
Available Chips
S50/S70/FM08/Ntag213/TK4100/EM4305/T5577, etc.


Please consult us for more chips.

Material
PVC, ABS, Epoxy, etc.
Finishes
Glossy, Matte, Frosted, UV-Coated, Brushed, Relief, etc.
Printing Options
CMYK Printing,Silk Screen Printing,Digital Printing,etc
Card Crafts
Magnetic Stripe, Scratch Off, Signature Panel, Hot Stamping, Barcode, QR Code,
Data Encoding, Serial Numbers, Spot UV, Embossing, Security, Punching Hole,
Holograms, Gilding, Portrait, Anti-Fack Logo, Laser logo, labeling, etc.


Please consult us for more artworks.
What is a Plastic Key Tag?
The plastic key tags are internally packaged with radio frequency chip, customized with your logo, images or even make it into a meaningful shape, such as basketball (if you are a basketball club). The plastic key tags have dozens of shapes to choose from, which can package various types of chips.
Different packaged chips can achieve different functional requirements. It usually can be divided into IC Key Tags, ID Key Tags, Access Control Key Tags, etc.

(1) Plastic Key Tags With IC Chip
The shell of customized plastic key tags is made of refined mold, high-grade anti-corrosion and high-temperature resistant material, and infused with PVC or ABS. The RFID chip is encapsulated inside, filled with epoxy resin, and combined by ultrasonic welding.
Small and exquisite appearance, durable and does not fade.

It's waterproof, shockproof and corrosion-resistant.

Can be hung on the keychain, easy to carry.

Various styles and colors to choose from.

Can be designed according to customer needs.

(2) Plastic Key Tags With ID Chip
The ID key tags are packaged with chips and coils and filled with epoxy resin. The Keytags has various shapes combined by ultrasonic welding. ID key tags have the following Characteristics:
Different colors and the design can be customized according to customers'requirements.

It can package different versions of high and low frequency chips inside, and can be compound packaged.

The surface can be marked with icons, spray codes, ID codes, serial numbers.

It has the characteristics of dustproof, waterproof, anti-corrosion and anti-vibration.

Can be hung on the keychain, easy to carry.
Our Plastic Key Tags Printing Service:
Our products are customized, including various colors, materials, sizes, thickness, shapes. OEM & ODM orders are available.

Brand new pvc card stock, ISO standard CR80 30mil solid PVC, professional looking, texture and feel. Custom sizes & shapes are available.

Can be printed with most card printers. Full color printing on one or both sides

All plastic key tags can be personalized with your logo design, brand name and variable data like barcode, magnetic stripe, signature panel, straight numbering and more. Also available is RFID / Smart card technology.

Use ready to print artwork, or we can help you design. Send your design and let's start an order.
Custom Plastic Key Tags Finishes
When choosing card finish, there are multiple finish options and looks for plastic key cards.



Glossy - gives a shiny and glass-like appearance that enhances the color and vibrancy.

Matte - has a soft and non-shiny look, producing an elegant and sophisticate feeling.

Frosted - has a rough and granular feeling that makes cards look very noble.

Pearl - gives a smooth feel and a taste, sparkling effect.


Plastic Key Tags Printing Options
As a custom pvc cards manufacturer, we are committed to being the best plastic key card maker, supply best solution for customized plastic key tags printing service. Click here to learn more about membership key card printing options.