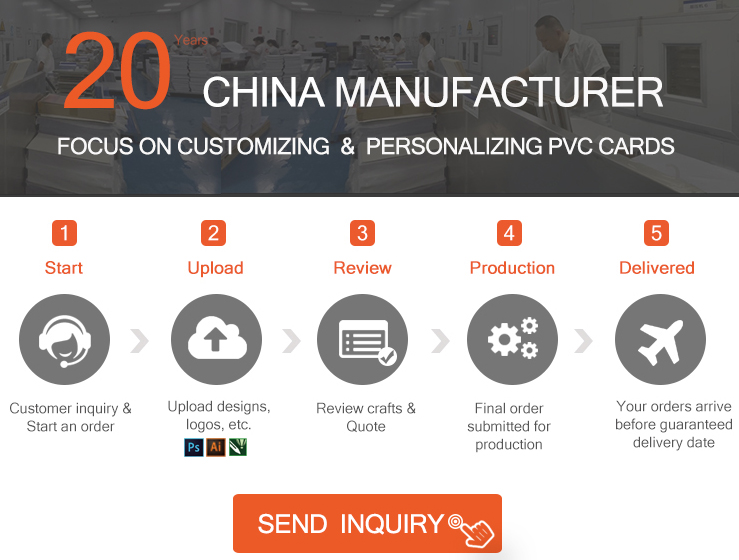 We're factory with 20 years of experience. Our plastic card is specially made to ensure that you receive the top grade custom laser cards at lowest price. We offers the highest quality plastic laser cards for your corporation, events, trade shows, conventions, meetings, or reunions.
We have a wide selection of sizes and shapes. If you don't see what you need, custom size and shape dies can be an option, too.
Size
85.5*54mm ( CR80 standard size, the same as credit card ).


Irregular-shaped cards are available.

Thickness
0.38-1mm/Customized.
Available Chips
S50/S70/FM08/Ntag213/TK4100/EM4305/T5577, etc.


Please consult us for more chips.

Material
Laser Material
Finishes
Glossy, Matte, Frosted, UV-Coated, Brushed, Relief, etc.
Printing Options
CMYK Printing,Silk Screen Printing,Digital Printing,etc
Card Crafts
Magnetic Stripe, Scratch Off, Signature Panel, Hot Stamping, Barcode, QR Code,
Data Encoding, Serial Numbers, Spot UV, Embossing, Security, Punching Hole,
Holograms, Gilding, Portrait, Anti-Fack Logo, Laser logo, labeling, etc.


Please consult us for more artworks.
Custom Laser Card Sample Video


What is a plastic laser card?
The plastic laser card is a feeling of rainbow from different angles after printing with laser pvc material. From the video above, you can see that the pattern on the card presents various shades at different angles, and can reflect the reflex variant of a special laser card on any part of the card.
When you take out the card and show it to others, it can enhance the image of the company and give people a noble and elegant feeling. Idea for high-end membership cards, VIP cards, platinum cards, and diamond cards.



Plastic Laser Cards Feature
It has good visual effects and can enhance the anti-counterfeiting and anti-scanning and copying functions of the transaction card, making the circulation of the transaction card safer.

The color of the laser material is colorful, high-end and gorgeous.

Available in laser gold or silver.

Full laser and partial laser are available for options.

It can also be made into IC cards or ID cards, according to customer requirements.

Custom Laser Cards Material
We provide various types of laser materials, which are colorful, high-end gorgeous. The different materials and patterns of the plastic laser card will have different visual effects through special processing. You can make decisions based on the effect you want.
| | | |
| --- | --- | --- |
| | | |
| Colorful Rainbow Laser Material | Kaleidoscope laser material | Quicksand Laser Material |
| | | |
| Diamond Laser Material | Star Laser Material | Meteor Laser Material |
Custom Laser Cards Finishes
When choosing plastic laser card finish, there are multiple finish options and looks for laser card. Something to keep in mind is that some printing options only work with certain finishes. If you're not sure which finish is right for your custom laser card, contact us to discuss your options.
Glossy
Glossy gives a shiny and glass-like appearance that enhances the color and vibrancy.
Matte
Matte has a soft and non-shiny look, producing an elegant and sophisticate feeling.
Frosted finished
Frosted finished have a rough and granular feeling that makes cards look very noble.
Transparent
Transparent can be made into full-page transparent or partially transparent in various shapes.
Embossing
After embossing, the text or pattern becomes a relief effect, making the card more vivid.
Brushed
It refers to the drawing effect from different angles after printing with drawing material.

Personalisation Printing Options
As a custom pvc cards manufacturer, we are committed to being the best plastic card maker, supply best solution for custom laser card printing service.