Email, Anytime
SmartOne offers custom design services to help you create a unique plastic membership, VIP, loyalty, gift card, key tag, etc. If you have any questions about plastic cards printing, feel free to contact us, [email protected] we will respond within 24 hours or less!

Over The Phone
We are very willing to take your order over the phone. If you need plastic cards that are not available online or cards with custom shapes, transparent, relief, brushed, hot stamping and other special printing options, please call us. We are here to help, provide a fast and competitive quote, discuss design options and guide you through a simple ordering process. We look forward to your call at 852-2421 6866.

Design Services And Plastic Card Templates
As a smart cards manufacturer, We not only create the plastic cards, but can also help you achieve whatever printing effect you want.
If you already have a custom design you want to use, send the document to us. If you want to create a new look, browse all the great options in our site.
To download our plastic card templates that will make it easy to layout your preferred card. You can also request help from a experienced card designer in our team, who will help you realize your vision.

Ordering Process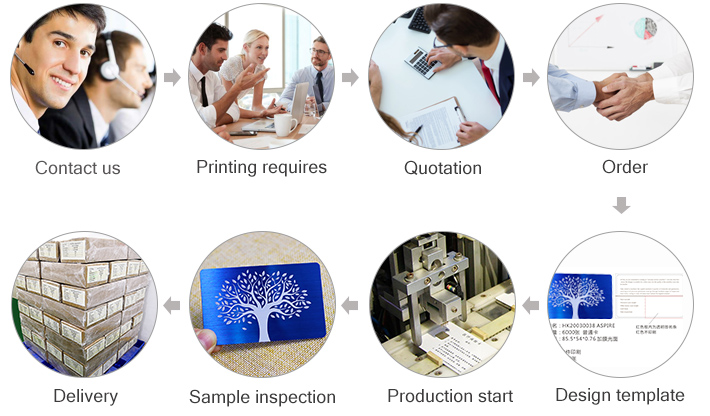 Step 1: Contact Us
Please call us or consult us online. We're 24 hours online and will reply to you sincerely at the first time.

Step 2: Print Requires
Please provide the details of your requirements about your customized plastic card as clear as possible. We will determine the final card material, card finish, surface design, print options and other details according to your requirements. If you are unclear, you can click the our customization service to know in advance.

Step 3: Quotation
Usually we quote our best price within 12 hours after we get your inquire. We are a large smart card manufacturer, and we have a very good factory price advantage and the latest machine equipment to help you get the high cost-effective cards.

Step 4: Order
If you are satisfied with our design and quotation, we will formally contract. For customers who make the first transaction, we will start production after payment.

Step 5: Design Template
If you have a design draft, you can give it to us. We will print the template according to the file you provide. We also have some pre-designed card templates. If you don't like it, we're pleasant to make free design for you.

Step 6: Card Production Start
Once the customer confirms the design, we will submit it to our production factory and start card production.

Step 7: Sample Inspection
You can require for samples to check our quality. Free for a blank/stock sample to check the design and quality, as long as you afford the express freight.
advanced sample fee $49 is required. It can be fully refuned if the final quantity of the confirmed bulk order is or over 10,000pcs.
After you pay the sample charge and send us confirmed files, the samples will be ready in 6-7 working days. The samples will be sent to you via express and arrival in 3-5 days.

Step 8: Delivery
Before delivery to the customer, we inspect for print misalignment. We take great care not to deliver defective cards as they are.
After the inspection is completed, it will be delivered to the destination specified by the customer. We also support direct delivery to the customer's address.