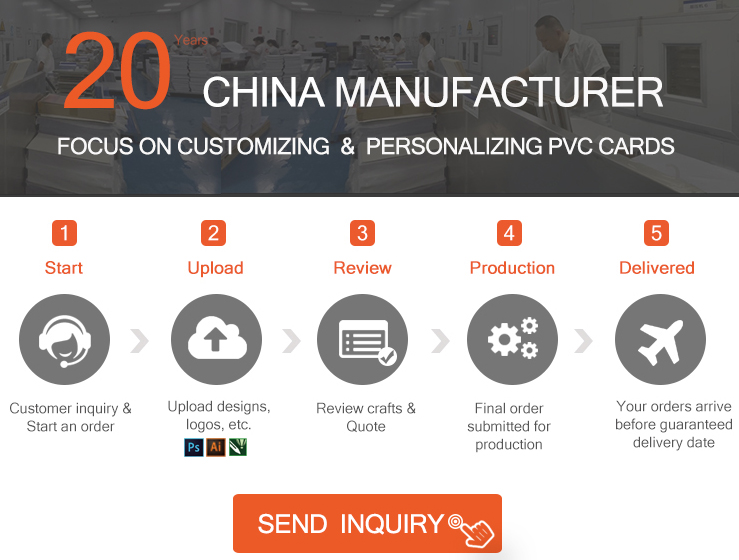 We're factory with 20 years of experience. Our plastic card is specially made to ensure that you receive the top grade custom business cards at lowest price. We offers the highest quality plastic business cards for your corporation, events, trade shows, conventions, meetings, or reunions.
We have a wide selection of sizes and shapes. If you don't see what you need, custom size and shape dies can be an option, too.
Size
85.5*54mm ( CR80 standard size, the same as credit card ).


Irregular-shaped cards are available.

Thickness
0.38-1mm/Customized.
Material
any color of PVC, Clear Plastic, Metal, Laser Material, etc.
Finishes
Glossy, Matte, Frosted, UV-Coated, Brushed, Relief, etc.
Printing Options
CMYK Printing,Silk Screen Printing,Digital Printing,etc
Card Crafts
Hot Stamping, Barcode, QR Code, Spot UV, Punching Hole,
Holograms, Gilding, Portrait, Anti-Fack Logo, Laser logo, labeling, etc.
Please consult us for more artworks.

Custom Business Cards Sample Video
What is a plastic business card?
The plastic business card can be customized with your name, corporate logo, personal photo, website URL, phone and email on fronts, with other introductions text on backs. It could keep on making an impression long after you gave it to prospective customers and remind them of who you are and what you're all about. In a word, PVC business card is the catalyst that will start a brand new business relationship.

Business Card Characteristics
Compared to ordinary paper business card, pvc business card is brighter colors, better feel and more practical. It has waterproof, anti-tear, anti-folding, copy rot, sun protection, anti-folding and other advantages. What is important is that it has a higher collection rate and better commercial effect. custom business cards have also the following characteristics:
Our products are customized, including various colors, materials, sizes, thickness, shapes. OEM & ODM orders are available.

Brand new pvc card stock, ISO standard CR80 30mil solid PVC, professional looking, texture and feel. Custom sizes & shapes are available.

Can be printed with most card printers. Full color printing on one or both sides

All cards can be personalized with your logo, barcode, QR code, photo, name and more. Also available is RFID / Smart card technology.

Use ready to print artwork, or we can help you design. Send your design and let's start an order.
Custom Business Cards Material
The blank white pvc materials are often used for plastic business card printing. However, there are many other unique materials that can really make your custom business cards stand out, including colorful pvc, clear pvc, laser material, brushed material, metal, wood, etc.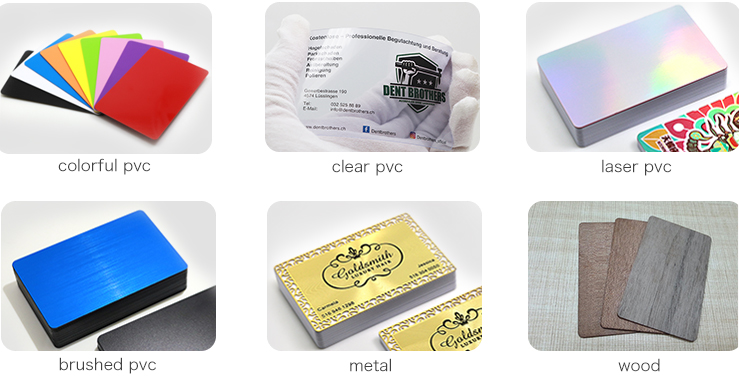 Custom Business Card Finishes
When choosing card finish, there are multiple finish options and looks for plastic business cards.



Glossy - gives a shiny and glass-like appearance that enhances the color and vibrancy.

Matte - has a soft and non-shiny look, producing an elegant and sophisticate feeling.

Frosted - has a rough and granular feeling that makes cards look very noble.

Pearl - gives a smooth feel and a taste, sparkling effect.

Plastic Business Card Printing Options
As a custom cards manufacturer, we are committed to being the best plastic card maker, supply best solution for custom business card printing service. Click here to learn more about business card printing options.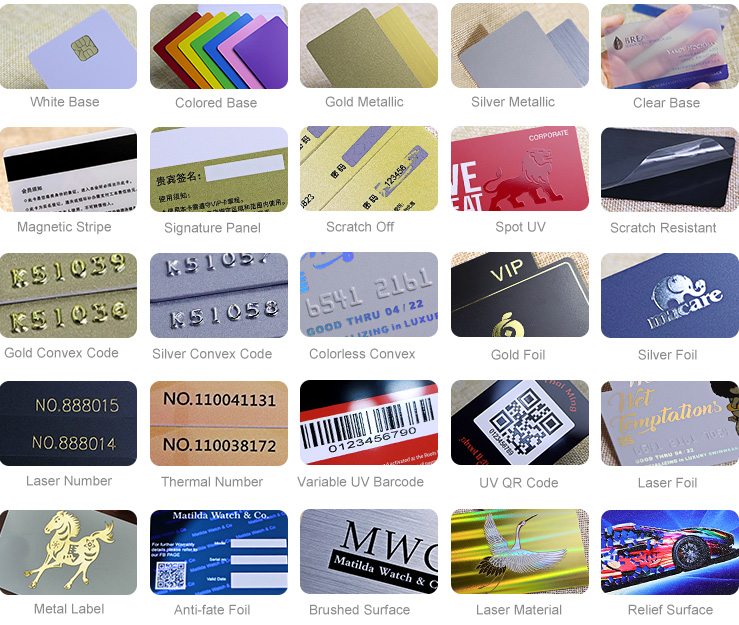 Frequently Asked Questions
Q: How to create a design for my pvc business cards?
A: To begin creating your business name card, select your preferred card thickness (standard or customized), card finishes (matte, glossy, frosted, brushed or relief ) and corner style (standard or rounded). If you already have a custom design you want to use, send the document to us. If you want to create a new look, contact and tell us the details of any personalisation or notes about your business card. Our professional and experienced design team are here to help.

Q: Do you provide different plastic business card shapes?
A: For sure. Besides traditional look, we offer various pre-designed custom business card template for you to download and creat your business card, or free design a new and unique shape in accordance with your request.

Q: Do you provide the sample for the high quality business cards with the design?
A: PVC Business Card Sample is available on request. If the sample is ready-made, it's free, but if it's on customers' demand, it's rechargeable. Please contact us for more details!

Q: How much does it cost to make custom business cards?
A: SmartOne offer you an affordable pvc business card for sale at factory price. With no minimum order requirements, we can produce your name cards quickly, saving you time and money, and giving you the flexibility to offer limited time campaigns or respond individually to your customers' needs.