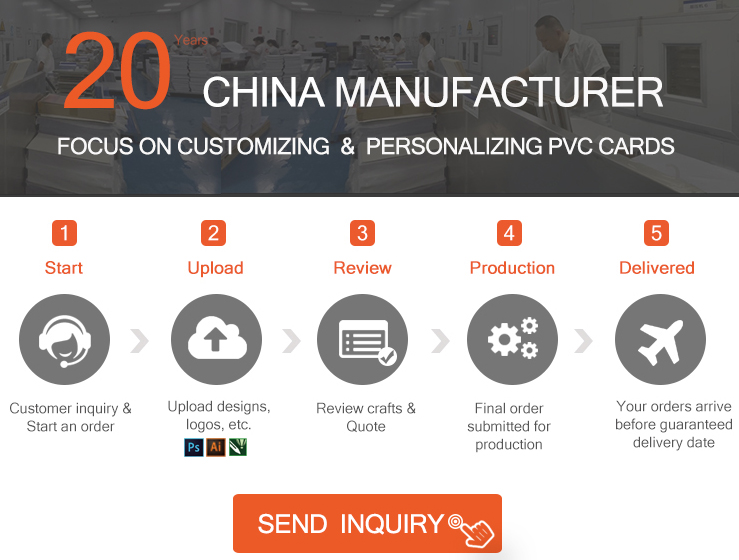 We're factory. Our plastic card is specially made to ensure that you receive the top grade metallic gold membership cards at lowest price. We offers the highest quality gold membership cards for your corporation, events, trade shows, conventions, meetings, or reunions.
We have a wide selection of sizes and shapes. If you don't see what you need, custom size and shape dies can be an option, too.
Size
85.5*54mm ( CR80 standard size, the same as credit card ).
Irregular-shaped cards are available.
Thickness
0.38-1mm/Customized.
Available Chips
S50/S70/FM08/213/TK4100/EM4305/T5577, etc.
Please consult us for more chips.
Material
any color of PVC, Clear Plastic, Metal, Laser Material, etc.
Finishes
Glossy, Matte, Frosted, UV-Coated, Brushed, Relief, etc.
Printing Options
CMYK Printing,Silk Screen Printing,Digital Printing,etc
Card Crafts
Magnetic Stripe, Scratch Off, Signature Panel, Hot Stamping, Barcode, QR Code,
Data Encoding, Serial Numbers, Spot UV, Embossing, Security, Punching Hole,
Holograms, Gilding, Portrait, Anti-Fack Logo, Laser logo, labeling, etc.
Please consult us for more artworks.
About Details
This is a metallic gold membership card with magnetic stripe, and the color can be metallic gold or silver. Our plastic membership cards are the same size and thickness as a credit card, and are available with or without barcodes, mag-stripes, scratch-off bars, unique names and other variable data, so each card is unique.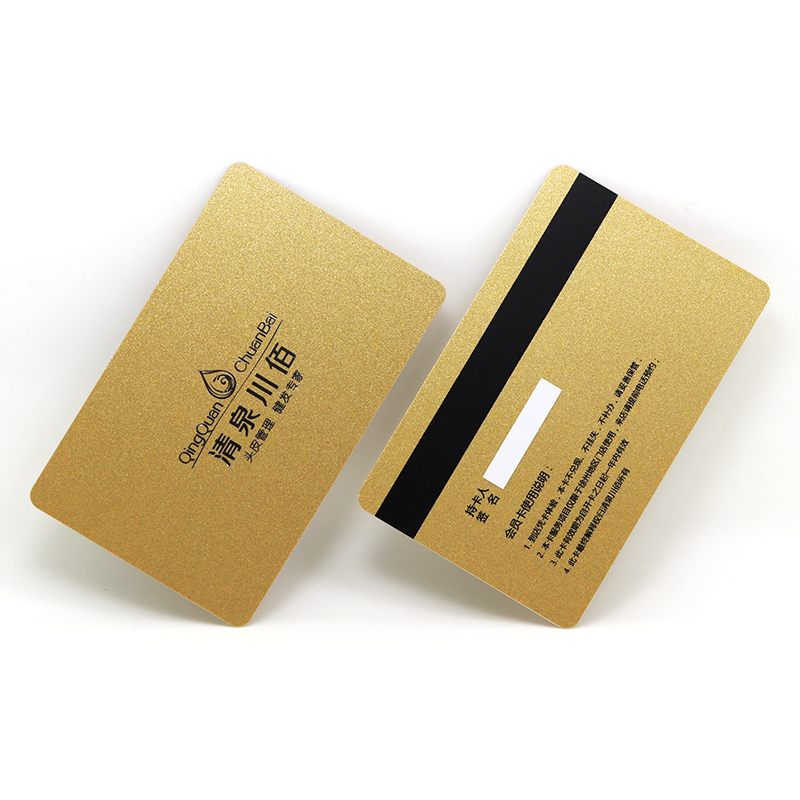 Customized plastic membership cards are a smart way to encourage repeat your business. You can provide us with a 'variable data' spreadsheet of your members names, and their numbers. Contact us if you can't find on our website what you're looking for. We do custom dies, and print any plastic card size and shape you need.