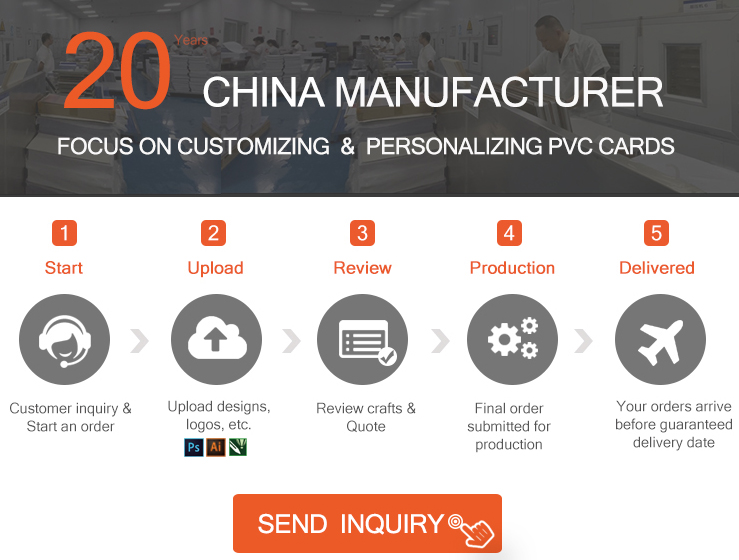 Printing Services
1. Use your own design file, or we can help you design.
2. We're professional pvc card factory. Our products are customized, including various colors, materials, sizes, thickness, shapes. Custom Sizes & Shapes are available.
3. Various blank pvc stock are options, such as white pvc, colored pvc, transparent pvc, etc.
4. Brand new pvc card stock, ISO standard CR80 30mil solid PVC, professional looking, texture and feel.
OEM & ODM Orders are available.
5. Can be printed with most card printers. Full Color Printing on one or both sides.
6. All pvc cards can be personalized with your own design, variable data like barcode, magnetic stripe, signature panel, numbering and more. Also available is RFID / NFC / Smart Card technology.
Customized Specification
Size
85.5*54mm ( CR80 standard size, the same as credit card ).
Irregular-shaped cards are available.
Thickness
0.38-1mm/Customized.
Available Chips
S50/S70/FM08/213/TK4100/EM4305/T5577, etc.
Please consult us for more chips.
Material
any color of PVC, Clear Plastic, Metal, Laser Material, etc.
Finishes
Glossy, Matte, Frosted, UV-Coated, Brushed, Relief, etc.
Printing Options
CMYK Printing,Silk Screen Printing,Digital Printing,etc
Card Crafts
Magnetic Stripe, Scratch Off, Signature Panel, Hot Stamping, Barcode, QR Code,
Data Encoding, Serial Numbers, Spot UV, Embossing, Security, Punching Hole,
Holograms, Gilding, Portrait, Anti-Fack Logo, Laser logo, labeling, etc.
Please consult us for more artworks.
About Details
This is a spot uv printing black business card printed with frosted finish. The rounded corners create a memorable, modern look. SmartOne offers many custom designs for black pvc business cards. If you already have a custom design you want to use, send the document to us. If you want to create a new look, contact us and our professional designers are here to help.

The surface of the frosted black business card has a layer of matte, which can protect the card surface and is not easy to scratch. The spot uv element can be used on what you want to hightlight, such as logo, name, only certain design, etc.