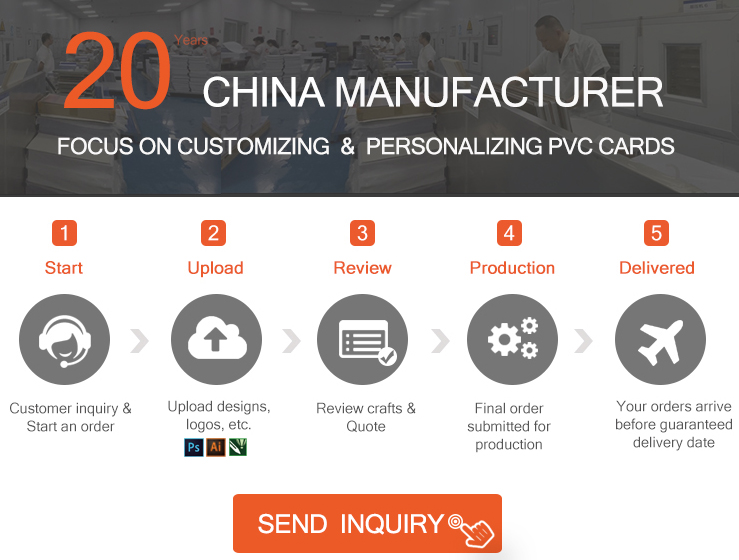 Printing Services
1. We have blank colors in stock, and also make custom colors.
2. We're professional pvc card factory. Our blank colored plastic cards are made from the same durably PVC material as standard blank cards, and the edges are also colored. Custom Sizes & Shapes are available.
3. Our blank coloured plastic cards come in many colours… white, black, red, pink, blue, green, purple, yellow, orange, metallic gold or silver, brushed gold or silver, etc.
4. Brand new blank color plastic card stock, the same size as a standard credit card, ISO standard CR80 30mil solid PVC, professional looking, texture and feel. OEM & ODM Orders are available.
5. Can be used for printing through most plastic ID card printers on both sides or one side.
6. RFID / NFC / ID chip is available.
Customized Specification
Size

3.375" x 2.125" (85.5mm x 54mm) ( the same as credit card ).
Irregular-shaped cards are available.

Thickness
30 mil (0.76mm) /Customized.
Available Chips

S50/S70/FM08/Ntag213/Ntag215/Ntag216/TK4100/EM4305/T5577, etc.
Please consult us for more chips.

Material
PVC
Finishes
Glossy, Matte, Frosted, Brushed, etc.
Printing Options
CMYK Printing,Silk Screen Printing,Digital Printing,etc
Card Crafts

Magnetic Stripe, Scratch Off, Signature Panel, Hot Stamping, Barcode, QR Code,
Data Encoding, Serial Numbers, Spot UV, Embossing, Security, Punching Hole, Holograms, Gilding, Portrait, Anti-Fack Logo, Laser logo, labeling, etc.
Please consult us for more artworks.
About Details
We have more than 20 years of printing experience in all card crafts, with strong customization capacity to meet your different requirements. Our blank color plastic cards also support customization, from standard white blank plastic cards to magnetic stripe cards with unique colors, thicknesses, and sizes. RFID or NFC chips are available. Various card surfaces are option, including glossy, matte, frosted, brushed and metallic.
The quality of the blank colored plastic cards allows a printing quality and a good readability of specific elements (texts, barcodes...), additionally, as the cards are in PVC, they are flexible but very resistant and solid. Perfect for membership and loyalty programs, gift card programs, identification, staff ID cards, access cards and more.