Our Smart Cards Printing Services
SmartOne is a leading producer and manufacturer of Smart Cards. We are the best plastic card suppliers, supply best solution for smart cards. Its range covers Contact IC Card, Contactless IC Card, M1 Cards, etc. SmartOne has our own manufacturing plant, all Smart Cards are manufactured according to strict ISO standards and provide short lead-times services for all your business needs.
We're committed to create more modern and unique smart cards with professional and experienced design team and we have the ability of special printing crafts to help customers customize smart cards that meet your various requirements, such as Brushed Cards, Laser Cards, Relief Cards, Hot Stamping Cards, Anti-fate Foil Cards, Spot UV Cards, Punching Cards, etc.

What is a Smart Card?
Smart Card, also called Chip Card, is the size of a standard credit card, and is embedded with either a microprocessor and a memory chip or only a memory chip with non-programmable logic. The microprocessor card can add, delete, and otherwise manipulate information on the card, while a memory-chip card (for example, pre-paid phone cards) can only undertake a pre-defined operation.
Smart Cards can also be printed with a wide selection of materials and luxurious special finishes. If you're looking for an affordable way to order beautiful, professional chip cards, contact us and our plastic card printing specialists are available to help you get the style right.

Available Chips
| | |
| --- | --- |
| 125KHz Chips | EM4100/H4100/TK4100, EM4102/H4102, EM4200, EM4205, EM4305, EM4450, EM4550, T5557/T5567, ATA5577, EM4205,EM4305,HITAG 1, HITAG 2, HITAG S256 etc. |
| 13.56MHz Chips | MF1K/MF1, MF4K S70/MF1 S70, ICODE SLI-L/ICODE SLI/ ICODE SLI-S, FM1108, ISSI4439, QR2217, FM1208(8K), Tag-it Standard(256), LEGIC MIM256, LEGIC MIM1024, LEGIC Supertag, Tag-it Plus(2048), Tag-it Pro(256) |
| 860-960MHz Chips | EM4323, EM4444, EM4033, EM 4133, ALN-9540/9662, Alien 9662, H3, ISO/IEC 18000-6C EPC |
Smart Cards Size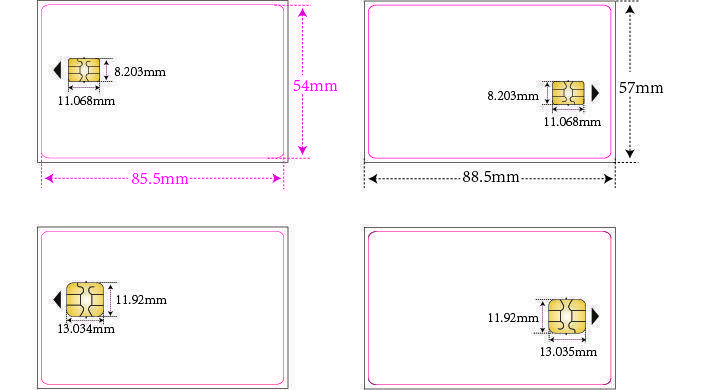 Standard Size: 85.5×54mm; Bleeding Size: 88.5×57mm
The standard thickness is 0.76mm or can be customized.
Different sizes or shapes can be customized to make your plastic cards design stand out.

Smart Cards Characteristics
Security: Smart Cards are more secure as they are programmed with encryption and the user's personal information and the transactions are safe.
Convenience: Smart Chip Cards are small in size and hence convenient to carry.
Economy friendly: Smart PVC Cards help in our economy by reducing transaction costs by eliminating paper.
Multifunctional: Smart Cards can be used for multi functions like paying bills, booking tickets, paying for food etc.
Reliable: Smart Chip Cards are more reliable than magnetic stripe cards.
Smart Cards Material
The following PVC materials are often used on smart cards. However, there are many other unique materials that can really make your chip cards standout, including ABS, PET, PETG, Metal, Wood, etc.
| | | |
| --- | --- | --- |
| | | |
| Ordinary PVC material | Colorful pvc material | Clear plastic material |
| | | |
| Rainbow laser material | Rhombus laser material | Various laser material |
Smart Card Finishes
When choosing card finish, there are multiple finish options and looks for Smart Cards. The most special finish are brushed and relief process. Something to keep in mind is that some printing options only work with certain finishes. If you're not sure which finish is right for your custom chip cards, contact us to discuss your options.
Glossy
Glossy gives a shiny and glass-like appearance that enhances the color and vibrancy.
Matte
Matte has a soft and non-shiny look, producing an elegant and sophisticate feeling.
Frosted finished
Frosted finished have a rough and granular feeling that makes cards look very noble.
Clear
Clear can be made into full-page transparent or partially transparent in various shapes.
Relief
After embossing, the text or pattern becomes a relief effect, making the card more vivid.
Brushed
Our brushed technology has gold, silver or other color option that makes your card stand out.

Personalisation Printing Options
As a smart cards manufacturer, We not only create the following print options, but can also help you achieve whatever smart card printing effect you want. The most special print options are the hot stamping process. The hot stamping (available in gold, silver or laser) is also a better choice to create a memorable, modern look. Please contact us, and you will get what you want !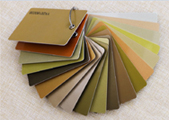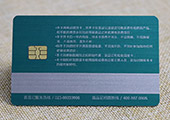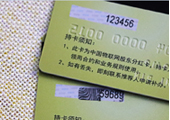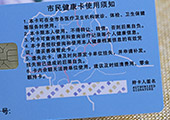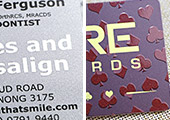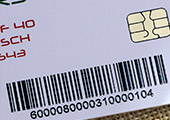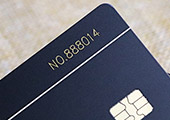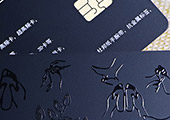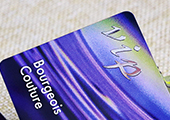 Metal Label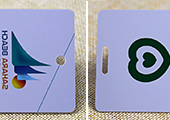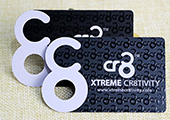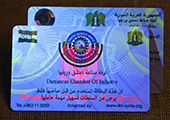 Anti-fate Foil
Order Now! >>
High-quality smart card printed quickly for you by Smartone