What is a Photo ID card?
Photo ID card is an information card of personal data made by advanced digital printing, which is directly printed with a staff members'name, photo, position, department, serial number, company logo, barcode and other data on the PVC card.
If you have already purchased the ID white card that need to print photos and employee information, you can consider the PVC patch card with adhesive on the back, which can be firmly attached to the ID card.

Photo ID Card Size
Size: 85.5mm X 54mm X 0.76mm or can be customized.
About the punching: We can do customized hole or slot punch in any size and shape on the card.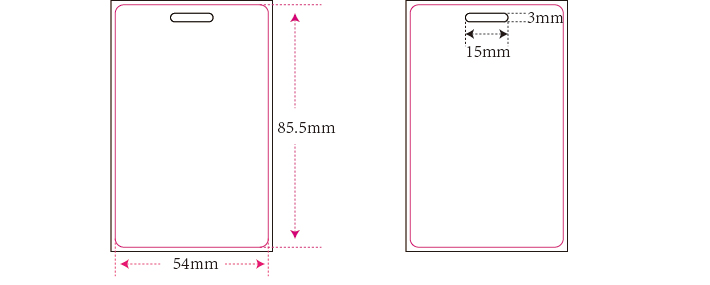 Photo ID Card Feature
High precision card printing machine with clear text and vivid color
Not afraid of water, no color fading, long use time
Machine positioning punch, accurate without burr
Strong pressure resistance and easy to carry.
Photo ID Card Material
Most commonly, photo ID cards are used in PVC materials. However, there are a range of unique material available to really make your ID cards standout.
PVC - Made of PVC materials, the size is the same as the bank card. The standard size is 85.5×54 mm and the thickness is slightly thinner than the bank card. The exact thickness is between 0.73mm and 0.76mm.
ABS - Made from recycled plastic and more durable than PVC, ABS is an excellent choice for high-heat applications or to satisfy eco mandates.
PET - PET is used to make pretty cards for a outstanding taste.
PETG - A more environmentally friendly card material, which is derived from polyester and is 100% recyclable. PETG is biodegradable and doesn't emit harmful gases.
Photo ID Card Finish
When choosing card finish, there are multiple finish options and looks for photo id cards. Something to keep in mind is that some printing options only work with certain finishes. If you're not sure which finish is right for your custom card, contact us to discuss your options.
Glossy
Glossy gives a shiny and glass-like appearance that enhances the color and vibrancy.
Matte
Matte has a soft and non-shiny look, producing an elegant and sophisticate feeling.
Frosted finished
Frosted finished have a rough and granular feeling that makes cards look very noble.
Personalisation Options
Order Now! >>
High-quality Photo ID card printed quickly for you by Smartone
Applications
The photo ID card is especially suitable for various work card, such as driver's licenses, identity cards, passports, badge, temporary residence card, internal security card, access control cards,etc.